If you're starting a blog, or any form of digital asset, getting the best hosting sites for bloggers, e-commerce merchants, among others is an important undertaking. 
In making your choice, it is important to take specific variables into consideration as they will affect your experience, and have a telling impact on your work. 
The sections below cover in detail the best blogging hosts in 2020 and beyond, and provides a list of reasons, and constraints you should consider for each hosting service when making a decision.
Best Hosting Sites For Bloggers
If you're a novice webmaster, or are in the initial stages of hosting your website and need a hosting company that makes the process seamless, you should consider this one. 
Why? Well, for one, you get great uptime value. 
This year, Bluehost websites have been fully supported, and online 99.981% of the time, and when they've not been, there's been a lot of prior information to let you know. 
For your business website or blog, this statistic can be the difference between success, and traumatic failure. .
Also, as your business grows, Bluehost comes with all the right hosting plans that help you scale seamlessly. 
Shared hosting is great for first time website owners, and small businesses with few web pages while VPS, and Dedicated Servers offers more bandwidth allocation to larger businesses.
Also, if you're on the Bluehost network, you get 24/7 hosting and tons of other features which will be covered in more detail in the section below;
Key Features
24/7 customer support
Easy to use for beginners
30 day money-back guarantee
One free WordPress site transfer
Above-average security
Free SSL Certificate
1 extra domain
5 Parked domains
Pricing 
Shared Hosting – $2.95 – $13.95/ month
Cloud Hosting – $18.99 – $59.99/ month
Dedicated Hosting – $79.99 – $119.99
Cons 
Higher renewal payments on month to month renewals
Restrictions on the cheapest plans
Site Ground - Great for Multinational businesses, students, and academia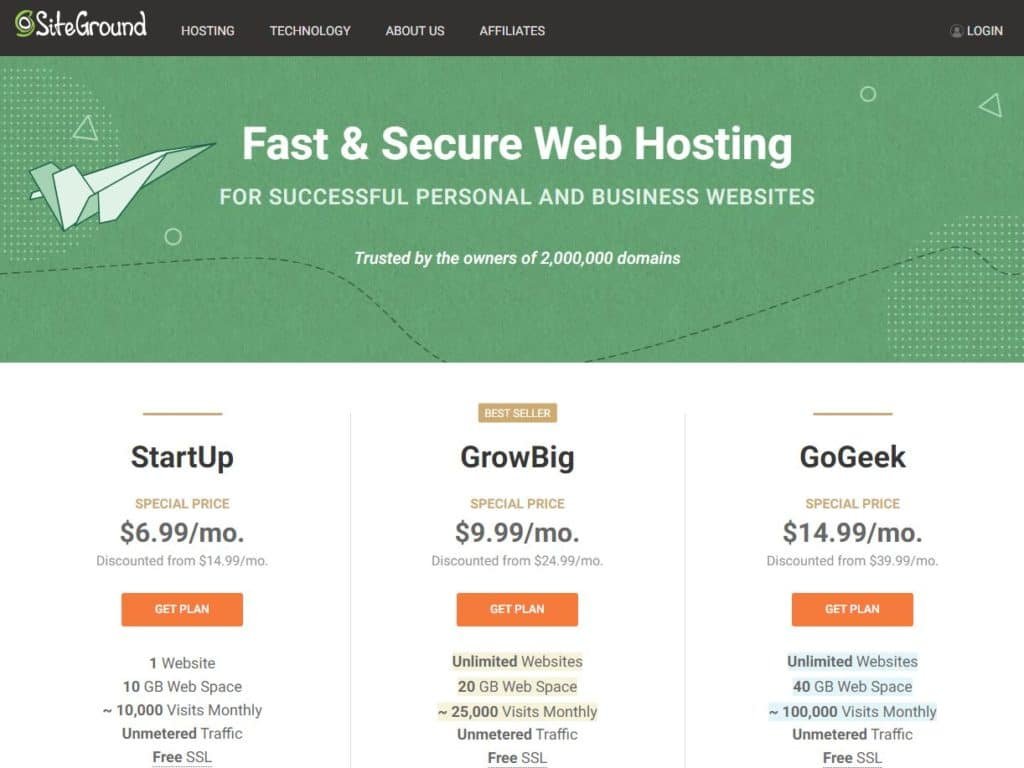 Siteground is home to well over 2 million websites, all over the world and they're trusted by so many for the simple reason that they deliver. 
For one, they're serious about your security as all sites come with SSL, and CDN to ensure you never lose sleep over cyber attacks on your digital assets. 
If you're in North America or any part of the world, and serve European customers, you should opt for Site Ground as they provide the necessary certifications that allow you to transact across European borders without transgressing any privacy laws. 
Also, you get a wide variety of hosting plans including Shared, WordPress, Cloud, Reseller and Dedicated, and each one is tailored to serve you with the web resources that match your business requirements.
Key Features
Free Backups on all plans
Free SSL Certificate
GDPR Compliance
Technologically innovative
Incredible Security features
Lower/No prices for student and academia
Pricing 
Shared Hosting – $6.99 – $14.99/ month
Cloud Hosting – $80.00 – $240.00/ month
Cons 
Expensive Renewals
No month to month billing
Fewer server locations
Storage limitations
Dreamhost - Best for Software testers
If you're looking for a hosting plan that encourages testing, debugging, and other such activities, Dreamhost is a reputable company that'll deliver you the goods. 
Why?
The simple answer to this question is that you get well over 90 days to test, and feel comfortable with the service, and if you're not convinced within that window, you may opt-out without any hitches. 
Dreamhost also happens to be one of three web-hosting companies that are endorsed directly by WordPress, and carry that burden of trust in all their transactions. 
Once you sign up, you'll get immediate access to a wide variety of hosting plans from Shared to Dedicated, each one serving you in a unique, and well-thought manner as your business grows. 
Also, with this provides, you'll get great speed on your websites, as they'll load in about 648 microseconds on average. A metric which is certainly above average for other businesses that offer similar price points. 
Key Features
Speed: 648 ms
Apps: WordPress, Drupal, Wix, Shopify etc. 
Shared, Cloud, WordPress, VPS, Dedicated
Above Average speed
Great uptime
97 Day money-back guarantee
Carbon Neutral
Pricing
Shared hosting: $2.59 – $4.95
VPS Hosting: $10 – $80
Cloud Hosting: $4.50 – $48
Cons
Limited Live chat support
No Cpanel
Only paid migrations
Squarespace - Ideal for Small Business Owners
Squarespace is the web-host that has, in recent times, become a favourite among web-designers, and clients in recent times. 
Squarespace offers a no-code, web-design layer atop its hosting product and for small business owners, who want a beautiful website without the hassle of development or the complications that often arise from larger-scale projects, Squarespace is the perfect option. 
Also, the website comes complete with a wide variety of E-commerce integrations that provide all the tools you need for conversion in your setup panel. 
Key features
Speed: 733 ms
CMS App support: WordPress, Drupal, Shopify etc. 
Integrations: Personal, Business, E-commerce etc.
Beautiful website design templates
Great themes, and designs
Drag, and drop and edit on the go
Page restore (After 30 days)
Pricing
Personal: $12/ month paid yearly 
Business: $18/ month; plus adv. marketing features
Online store Basic: $26/ month
Advanced: $40/ month plus e-commerce features
Cons
You have to rely on the Squarespace ecosystem 
Can get clunky
Does not support constant tweaks
A2 Hosting - Ideal for pureplay E-commerce businesses
A2 Hosting is without a doubt, the fastest web-hosting company in its class on the internet. The company casually delivers speeds, and average page-load times of about 305 microseconds. 
Also, this web-hosting company is perfect for bloggers, and especially e-commerce websites as a fast-loading product page can often spell the difference between a successful sales campaign, and a failed one. 
A2 hosting also places tremendous value on security, and customer support and delivers an overwhelmingly appealing any-time money-back guarantee. 
This feature makes A2 hosting a safe bet if you're looking to test the waters before committing your digital assets to anyone host permanently. 
Key features:
Speed: 305 ms
Customer support: 24/7 Live Chat
CMS App Integrations: WordPress, Joomla, Drupal, etc. 
Peace of mind Features: Free SSL, Cloudflare CDN, Anytime Money back
Free transfer (For one site) & 10 USD per site after
Fast page load times – 305 ms 
Reliable up times – 99.98%
Friendly Customer Support
24/7 Server monitoring
Free site migrations (For advanced plans up to 25 migrations)
Pricing: 
Shared Hosting: $2.99 – 14.99
Managed VPS Hosting: $34.99 – $69.99
Dedicated Hosting: $141.09 – $290.49
Cons
High renewal rate & 15 day window before the renewal term
Turbo server only available with expensive plans
Significant restrictions on the cheapest plans
Cloudways - Perfect for Startups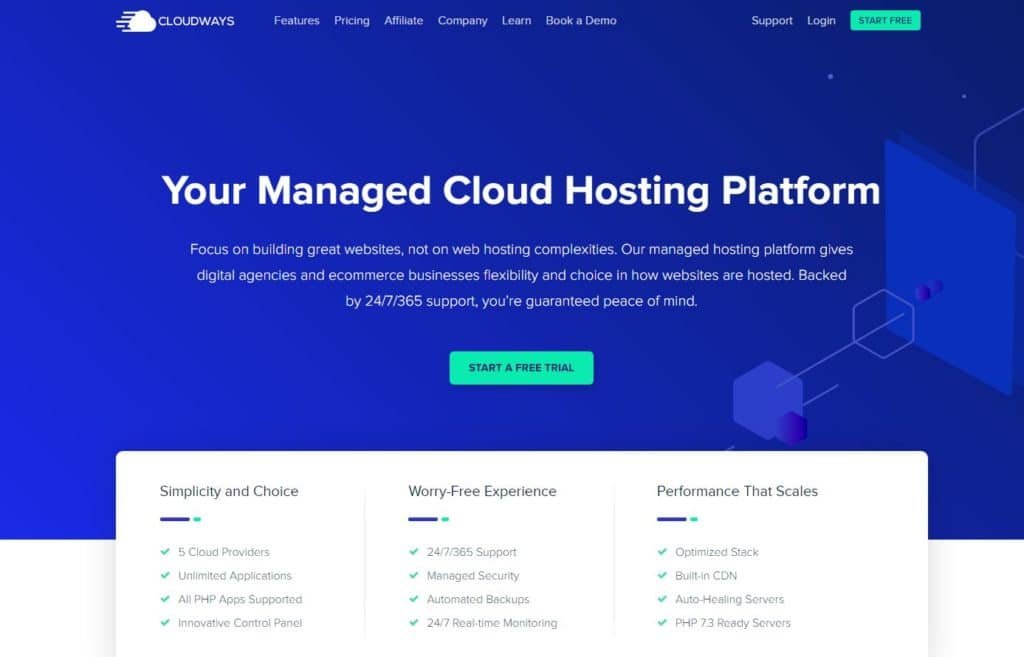 Cloudways touts itself as a "managed" cloud-based hosting platform and delivers a unique experience compared to the other hosting companies in a few ways. 
It does this by eliminating the "retainer" type lengthy contracts that many other hosting companies are eager to sell to you. Instead, you get a per-hour pricing model that works for startups, and other businesses that need to retain as much of the runway cash as possible. 
Also, depending on what you choose, you'll get the option to select from a wide variety of powerful hosting options from the platform including Amazon Web Services, Google Cloud Services, among others. 
Also, once you sign up, you'll get security features such as SSL at no cost to you. You'll also get Auto-Healing, App-Back ups and an exceptional hosting stack that includes MariaDB, MySQL, and Apache. 
Key Features
Free Secure Socket Layer SSL (Security feature)
Exceptional Uptime: 100% over the course of 3 months investigated
Pay as you go pricing
24/7 Live Chat
Amazon Web Services, Google Cloud Services
Active Site monitoring, Website Builder
Fast page loading: 540 ms
Free website migration for the first time
Pricing 
Digital Ocean: $10 – $80
Linode: $12 – $90
VULTR Standard: $11 – $84
VULTR High Frequency: $13 – $100
Amazon Web Services: $36.51 – $274.33
Google Cloud Services: $33.63 – $232.80
Cons 
Extra cost for premium support, Tiered support system

Extra charge for Email
GoDaddy - All-round value for everyone

GoDaddy, which is most recognizable through its position as one of the most prominent domain registrars on the planet offers a powerful suite of features to users from all categories. 
It also boasts of speeds, and average page-load times of about 508 microseconds which is right on the mark for speed, and an acceptable metric for the hosting provider. 
Like others in this category, Go Daddy also boasts remarkable numbers for its up-time stats which are currently at an average of 99.96% in 2020. 
Also, this hosting provider offers well over 150 Open Source CMS integrations such as Joomla, and Drupal as well as hosting plans from Shared, to Dedicated, each tailored for your growing business. 
Unlike other options, Go Daddy offers a ground-floor price of about $1.00 but offers a limited basic plan, and looks to upsell you at every turn to make up for the shortfalls of the low-entry barrier.
Key Features
Uptime: 99.96%
Speed: 508 ms
Customer service channels: 24/7 Chat/Phone/Whatsapp
WordPress, Joomla, Drupal, and over 150 plus apps
Shared, WordPress, Cloud, Reseller, VPS, Dedicated servers
Site transfer: 99 USD/ site
Starting at 1.00 USD per month
Good uptime 99.96%
Good customer support
Basic plan is good value
Pricing 
Shared hosting: $5.99 – $19.99
VPS hosting: $19.99 – $59.99
Cons 
Expensive SSL add ons

Lots of upsells

Renewal rates are high
Namecheap - Number 1 in domains
Namecheap may very well be the perfect antithesis to Cloudways as the former excels with domain names where the latter does not offer a service in this area. 
If you're wondering why you should sign up for Namecheap, well it's pretty straightforward. They offer amazing deals on domain names, even throwing in a free one if you sign up to the hosting service they offer. 
Namecheap also offers you a 30-day money-back review should you want a change after the initial payment. This means that for one month, you can enjoy the Namecheap web services at no cost, and with little to no risk. 
Key Features
Speed: 687 ms
30-day money back
Feature stacked cheap plan
Weekly Backups
Website builder
Low introductory plans on all hosting tiers
Pricing
Shared Hosting plans – $2.88 – $8.88
Reseller Hosting plans – $18.88 – $48.88
WordPress Hosting plans: $3.88 – $11.88
VPS Hosting: $9.88 – $15.88
Dedicated server: $45.88 – $319.88′
Cons
Steeply priced premium domain names 
Spamming with email marketing can be an issue in some instances
If you're on the market to find a web hosting company that serves, you should probably consult this list. 
Regardless of who you are, and what the demands of your business are, you're likely to find something that comes with the right combination of pricing, value and features to give you a remarkable experience.