If you've got multiple assets online and need to switch from Squarespace to BlueHost, you're in the right place.  Afterall, having your domain registration and hosting administered by the same enterprise is great for scale and dramatically reduces the complexity of your operation. 
If Squarespace's DNS, and hosting service is suboptimal for your personal and business outcomes, and you're looking for a more flexible solution, Bluehost is a useful option to consider. Thankfully, transferring your domain to Bluehost is simple and straightforward. 
In making your transition, here are a few useful caveats that might help with your process and save you time and call units to the Bluehost customer service team;
Guidelines to note in transferring from Squarespace to BlueHost
The section below is a series of steps that'll lead you to you desired outcome if you're looking to transfer your domain from Squarespace to Bluehost; 
How To Transfer Your Domain From SquarespaceTo BlueHost
Login to your account

–

On the Home Menu screen,

click Setting

s

, then

click Domains

. You can also press the ? key while any panel is open and search domains. Click on the domain you want to transfer.
Select desired domain

– Scroll down uncheck

Whois privacy

and

Lock Domain

. If you don't see the Lock Domain option, your domain is already unlocked and you can skip this step. If you can't uncheck Lock Domain, this means your domain is currently locked due to either the

60-day transfer rule

or the optional 60-day lock following a

change to the Owner's contact information

.
Transfer Domain –

Click

Get Transfer Key

and copy the transfer key that appears. Save this code to transfer your domain from Squarespace to Bluehost . This will send an email with a unique authentication code to the domain's Admin Contact. Check your inbox for an email from customercare@squarespace.com with the subject line: "Auth code for [yourdomain.com]". If you don't get this email in a few minutes, see the

troubleshooting steps below

.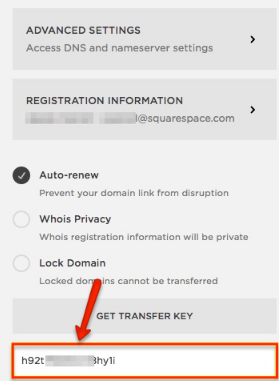 Verification –

After completing the steps above, you may receive an email from your new provider (via a @registrarmail.net email address) confirming the transfer is in progress. The email includes a link, which may look like it's only for cancelling, that you can use to confirm the transfer.
If you click the link and confirm, the transfer will complete as soon as Bluehost accepts it. If you don't click the link, the transfer will complete within five business days. After the domain transfers to your new provider, it will display in the Domains panel as a third-party domain. If you want to use the domain for a different site, you can

disconnect it

.
If you followed steps 1-5 correctly then congratulations, you've just got yourself a new lease on life by successfully initiating a domain name transfer from Squarespace to BlueHost. Now you realize that it's not nearly as hard as it seemed the first time. If you run into any difficulty during any stage of the process, don't hesitate to reach out to Squarespace or the support team at BlueHost to resolve your issues.
If you're currently hosting your digital assets on GoDaddy and are on the look out for a simple way to move to BlueHost, click here to see how.