What is a Website Builder?
This article is great for you if you've just got your Bluehost domain, and want to create a kickass website, but know little to nothing about HTML, CSS or any other web-related technology; well, web-builders make it easy to bring all your ideas to reality. 
For the most part, website builders allow users to create websites without having to manipulate HTML, CSS, JavaScript and the other obscure web technologies that make websites come to life beautifully.  
What capacities does a Website Builder provide?
A web builder gives you the freedom to express your creativity while creating web pages, blogs, e-commerce websites and other digital assets without having to go through the process of coding, or interacting with web-editors, consoles and other such tools. 
How many Website Builders does the Bluehost platform offer?
The Bluehost platform offers well over 55 website builders to choose from and of those, we recommend using Weebly Site Builder. The WordPress website builder also comes highly recommended. 
Website builders come with pre-made themes/templates, so users have plenty of options for customizing their site. 
Should you prefer the niche options, a quick Login to Bluehost's Cpanel will reveal the full list of website builders. The next section provides some more insight for your information.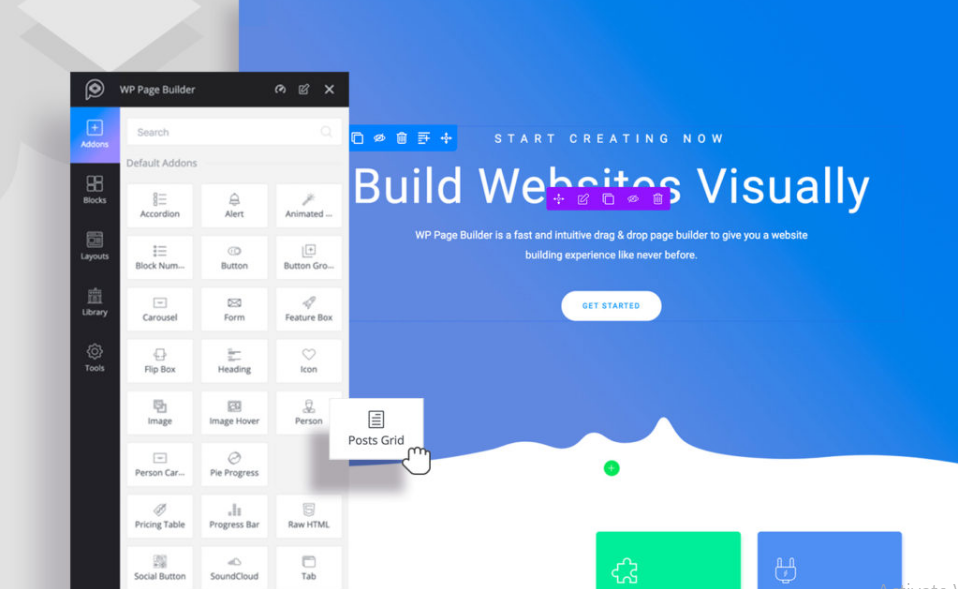 WordPress is perhaps the most popular site builder you can find anywhere. It allows you to create a professional-looking website in just a matter of minutes. 
You can create any type of site, from a simple personal blog site to a full-blown, multi-page website. Remember you have complete control on the appearance of the website, depending on what you're looking to accomplish. 
There are thousands of free WordPress themes to pick from to fit any vision you may have. It also has plenty of plugins you can use for various purposes. 
These themes and plugins can either be free or paid, depending on the developers and the features they offer.
Key Features for the WordPress Website Builder
Simple to set up and use: '
A lot of people prefer to use it over any other platforms because of its user-friendly interface. WordPress lets you easily add photos, videos, and other types of content to your website.
World-class support:
WordPress is constantly being updated by its tech team and has always been integrated with the latest in web design and development. Tech-support is also just one phone call away, just in case you run into any bugs.
Thousands of themes to choose from: 
The WordPress community is vast, with lots of amazing theme developers that offer free and premium themes that you can use for any type of website. This is a huge benefit for the customers. What's more, you can easily customize the look of your site whenever you want.
Weebly Site Builder is another well recognized option. This website creation tool is easy to use because of its minimalist design and handful of powerful features. 
It also utilizes a powerful drag and drop editor that lets you easily create websites at the drop of a hat on any of your Bluehost domains. 
While the free version is available to all Bluehost customers we recommend getting the premium version which adds unlimited pages and a few more advanced features such as password protection for the website.
If you're looking to get your websites up, and running quickly, and want a website that makes implementing updates easy, the Weebly website builder is the way to go.
Key Features for the Weebly Website Builder
Hundreds of templates for customization: Browse through various developer made templates that highlight your own website's unique identity. 
Advanced tools and ad-ons: With support for applications that enhance the experience of building web pages by users, you are guaranteed a variety of quality of life improvement tools that Integrate seamlessly with other third party applications such as image editors, document preparation software, tracking tools and others.
If you're anywhere on the internet, you've probably seen a Wix advertisement. In recent years, other than their kick as ads, they've also developed one of the world's most powerful website builders.
Once you opt for the Wix builder, you'll get access to hundreds of templates – some of which are available for free. What's better, you can access it while hosting on Bluehost. 
If you're a small business, or a local act, Wix is perfect for you as it's easy to use, and optimized for the mobile environment.
Key Features for the Wix Website Builder
Easy to use editor: 
While this seems like moot point, it simply isn't. If you're opting for a website builder, what you're trying to achieve is speed, and ease that building from scratch with code cannot match. Wix dominates in this area by providing an extensive array of easily accessible drag and drop tools for everyone who's looking to design awesome websites quickly. 
Automatic website backups: 
If you've been on the web long enough, chances are you've lost critical data during design, coding or any of the hundred different preliminary stages when launching your project. 
The Wix web builder mitigates this risk by automatically backing up all your content every 7 days once you effect any changes to the content.  This means that for the most part, you can rest easy and focus on executing across all the different battle fronts of success for your business. 
Conclusion
Websites builders are your best bet when you're looking to deploy small-scale digital assets on the internet. WordPress, and Weebly offer roughly the same value with great design, and implementation capabilities from both of them
If you're looking to transfer your domain from BlueHost to WordPress, click here to learn more